Our Restorative Dentistry Services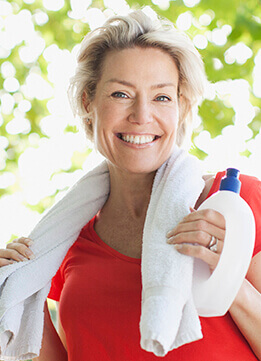 Dental decay and injury can happen to anyone. What's most important is that patients receive the restorative care they need as soon as possible, so relatively small issues don't lead to more serious oral health consequences. Here in Chicago, Dr. Joseph McCartin trained in joint-based occlusion innovated by Dr. Mark Piper, and he attended the Dawson Center for Advanced Dental Studies in St. Petersburg, Florida, allowing him to provide the most advanced, predictable treatment possible for dentures, full-mouth reconstruction cases, and much more.
Traditional Crown & Bridge
As a Kois and Dawson certified dentist, Dr. McCartin has learned the art of restoring damaged smiles in a beautiful and durable fashion, and he enjoys helping patients benefit from those valuable skills. Dental crowns are the treatment of choice when faced with a tooth that's too decayed or injured to be successfully cared for with a regular filling, and we precisely design the tooth-colored restoration to blend beautifully with your existing teeth. We can also use high-quality crowns to treat purely cosmetic flaws, as well as providing finishing touches on root canal and dental implant procedures.
Dental bridges are a common solution for the loss of one or more teeth. These restorations are crafted from precisely designed crowns fused to replacement teeth to meet your reconstructive needs. Once our Chicago team has received the final product, we'll carefully place it within the gap, using additional crowns fitted over adjacent healthy teeth as anchors to hold it securely in place. The final result gives patients back the natural sturdiness and confidence they've been missing.
Root Canal Therapy
In the 1990s, Dr. McCartin received advanced endodontic training L. Stephen Buchanan, and today, he still relies on his rotary instrumentation and centered base condensation techniques to provide patients struggling with badly damaged teeth revitalizing and predictable results. Root canal treatment involves accessing the inner chambers of the tooth, removing any and all diseased pulp and bacteria, and then sealing the area shut again to minimize the risk of further infection. A tooth-colored crown completes the procedure and restores the lost tooth structure.
Wisdom Tooth Extractions
Extraction is never our Chicago team's first choice for dental treatment, but sometimes, it's necessary for preserving oral health, especially in cases concerning wisdom teeth. As the last teeth to emerge in your smile, wisdom teeth often don't have enough room to erupt properly, causing them to erupt at an angle, partially, or not at all which can lead to infection or cysts. Dr. McCartin and the rest of our team handle the extraction procedure as smoothly as possible so discomfort is minimal.
Removable Dentures
Severe tooth loss can be devastating, but it doesn't have to be permanent. With a customized, high-quality denture from Dr. McCartin, patients from the Beverly and Mount Greenwood neighborhoods of Chicago and beyond regain the complete smile they've been missing in a convenient and affordable manner. We'll recommend either a full or partial denture depending on your needs.
Full dentures, like the name suggests, are designed to replace the entire top or bottom arch of teeth. They stay in place within the mouth through natural suction or dental adhesive. Partial dentures, on the other hand, help patients maintain remaining teeth while replacing the lost ones with lifelike alternatives. These dentures fit into the smile like a puzzle piece, and attach with clips and brackets. Both full and partial dentures are removable, allowing patients to easily clean and store them during sleep for a more comfortable experience.
Implant-retained prosthetics and same day denture conversion are available for patients who are looking for a more stable and seamless denture.
Digital X-Rays
Digitally capturing an image offers countless benefits over the tedious film capture and development of traditional models, and we're happy to offer this technology here at our Chicago office. Digital X-rays are show our team more detailed dental information that isn't visible to the naked eye, which is what makes x-ray imaging an essential part of treatment. The images are captured and transferred to nearby monitors in a matter of seconds, and can be enlarged and enhanced to make diagnosis and patient education simpler. Best of all, they admit significantly less radiation.