Gum Disease Treatment with Soft Tissue Laser Therapy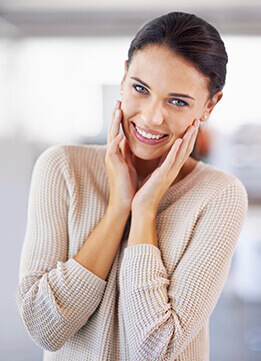 Periodontal disease is the most common oral health problem patients face, and the worst part is many of those people don't even realize they're suffering from it. With regular check-ups and hygiene appointments at our Chicago office, we locate gum disease at the earliest possible stage and provide effective treatment that revitalizes your smile. Dr. Joseph McCartin is certified in laser use by the Academy of Laser Dentistry, and he currently offers treatment with two soft tissue lasers. These revolutionary tools allow him to perform gum surgery for periodontal disease, biopsies, and other soft tissue procedures in a comfortable and minimally invasive fashion.
Do I have periodontal diseases?
It's important to remember that in some cases, symptoms may be mild or even unnoticeable. That's why consistent visits to our practice are strongly recommended. However, there are some common signs of periodontal disease that you can look for when practicing regular oral hygiene, including:
Swollen, red, and/or tender gums
Gums that bleed easily when brushing or flossing
Teeth that feel loose or wobbly
An unexpected change in the way teeth fit together
Bad breath that isn't alleviated through regular hygiene
Benefits of Choosing Soft Tissue Laser Treatment
With revolutionary laser dentistry:
We can effectively perform soft tissue procedures with little to no bleeding. In many cases, sutures aren't even needed.
The laser sterilizes the treated areas, minimizing chances of bacterial infection.
Any swelling and/or damage to surrounding tissue is minimized.
Tissues heal at a faster pace and regenerate quickly.
Many laser procedures are so comfortable they don't require anesthesia.
Our lasers are used to easily locate cavities, remove benign tumors, perform teeth whitening, and eliminate any sensitivity to hot and cold temperatures. Once Dr. McCartin knows what dental procedures you need, he'll be happy to discuss whether laser technology is right for you.