Meet our Team
Suzanne McCartin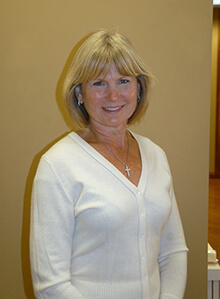 Suzanne McCartin is the office manager and has been with the practice since the day her husband, Dr. McCartin, opened his doors in 1984.
Born and raised in Milwaukee, Wisc., Sue moved with her family to Wethersfield, Conn., when she was 15. Living in New England provided her with wonderful opportunities for traveling and camping throughout the eastern U.S., and it was there that she developed her love for travel and the outdoors.
She returned to the Midwest to attend Marquette University, where she earned a bachelor's degree in speech and met Dr. McCartin.
Joe and Sue have three children and three grandchildren.
Their oldest son and daughter-in-law have twins and live in Minneapolis, Minn. Their son recently finished law school after working in Washington, D.C., doing legislative work for the building and construction trades.
Their daughter and son-in-law live in Philadelphia, Pa., with their toddler son. She is the president of the Epilepsy Foundation.
Their younger son lives in Denver and works for Jackson National Life Insurance Company.
Suzanne's passion is waterskiing, especially slalom skiing, but she enjoys all outdoor activities. Joe and Suzanne have three dogs (a Labrador and English setters) that she walks every day, and they enjoy time with friends and family at their lake house in the Wisconsin Northwoods.
The McCartins also enjoy travel, and some of the more memorable trips include fly-fishing on the Russian River in Soldotna, Alaska, hiking the Grand Canyon and whitewater rafting in Maine.
Suzanne takes pride in providing their patients with the best service. She believes their office has the most caring and qualified staff and that Joe is the most skilled and knowledgeable dentist in Chicago.
Suzanne regularly attends training in dental practice management, and she is certified in advanced cardiac life support.
Meagan Peterson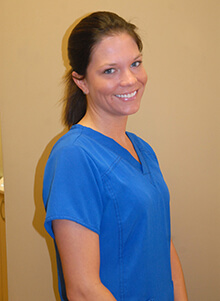 Meagan Peterson has been on staff with Dr. McCartin since 2008.
She grew up in Alsip and graduated from Eisenhower High School and has taken several courses in college.
As a dental assistant, she works with Dr. McCartin to assure each patient is at ease and ready for treatment. For Meagan, the best part of her job is interacting with patients and working with her colleagues on staff.
She is certified in coronal polishing and application of pit and fissure sealants, CPR and advanced cardiovascular life support. Others include radiology for dental personnel, oral sedation, and PRP and PRF phlebotomy. She has also trained in aspects of sleep apnea.
A mother of two children, Meagan loves spending time with family, traveling, and being outdoors at the beach.
More to Explore