Orthodontic Options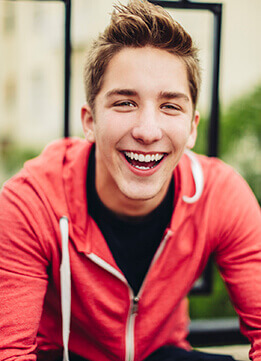 Have you been dreaming of a straighter smile? Orthodontic treatment can provide the esthetic changes you're looking for, as well as eliminating potentially serious oral health issues like misaligned bite or jaw problems. Here in Chicago, Dr. Joseph McCartin and the rest of our team strive to provide treatment solutions that are personalized to benefit unique smiles and preferences. That's why we offer both traditional orthodontics and more sophisticated, seamless options like clear braces and ClearCorrect.
Traditional Orthodontics
The use of traditional orthodontics is typically recommended when a patient's smile is in need of significant correction for developmental problems that directly affect oral health. Metal braces are more efficient, convenient, and comfortable than ever before, and Dr. McCartin works with patients to find the treatment option that works best. Plus, kids will enjoy decorating their smile with colored bands!
Clear Braces and ClearCorrect
Clear braces and ClearCorrect both consist of a series of customized, clear plastic alignment trays, each one designed to represent a different stage of smiles as teeth move closer to the ideal position. Patients wear clear braces for 20-22 hours a day and switch to the next aligner in the set every two to three weeks or as directed, as well as attending regular check-ups at our practice where we'll check your progress.
Many older teenagers and adults choose clear braces or ClearCorrect because of the clear aesthetic benefits. The virtually invisible plastic of the aligners means that people won't notice you're undergoing treatment – all they see are the gorgeous results that follow. Also, the easy removability of the aligners means that patients don't have to make tedious changes to their diet or oral hygiene routine. There are no uncomfortable metal bands or wires to irritate your mouth, and best of all, treatment is usually completed in under 18 months.