Our Preventive Dentistry Services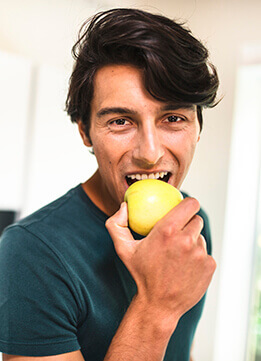 When it comes to maintaining a healthy, happy smile for life, preventive care is truly crucial. This doesn't just involve diligent brushing and flossing at home, either – oral health problems can develop in ways that an untrained eye may not notice until significant damage has been done. That's why Dr. Joseph McCartin and the rest of our team strongly recommend all patients attend at least two appointments at our Chicago practice every year. This allows us to form a complete picture of your current state of oral health, and provide personalized treatment options and recommend preventive measures that may be needed. Patients from the Beverly and Mount Greenwood neighborhoods and beyond are always welcome!
Check-ups & Hygiene
Regular evaluations and cleanings are a cornerstone of maintaining your ideal smile for years to come. During your check-up, Dr. McCartin and our team members thoroughly inspect every aspect of your oral health, including the surfaces of each tooth, gums, jaw, bite, and more. Digital X-rays and other state-of-the-art technology help us form a complete picture of your unique smile so that all the facts are at our disposal. Once we have this valuable information, we can work with you to create a personalized treatment plan that meets your needs in a convenient and effective manner.
Even diligent patients who brush and floss the recommended amount each day can miss small areas, allowing plaque to form a bond on the enamel and resist further efforts of removal. Your hygiene appointment resolves this issue by removing soft plaque and hard tartar deposits and cleaning soft tissue. You'll leave with a smile that feels significantly refreshed.
During your first appointment at our Chicago practice, we provide Perio Path diagnostic testing. The results from this salivary test help Dr. McCartin and our team members know exactly what kinds of bacteria are causing oral health issues which allows us to treat infections more effectively and help you keep your gums as full and healthy as possible.
Dental Sealants
Some patients, especially young ones, struggle with keeping teeth clean through regular brushing and flossing. In these cases, dental sealants provide added protection against the threat of cavities. We'll paint this tough, non-BPA material directly over the pits and grooves of teeth effectively sealing them. While we often recommend sealants for children, in certain situations, adults may benefit from them as well.
Nightguards/TMD Splints
Bruxism (also known as teeth grinding or clenching) is a common ailment that usually affects patients while they sleep, causing facial pain, morning headaches, and damaged or worn teeth. Thankfully, Dr. McCartin can design a customized nightguard for suffering patients. This nightguard is worn comfortably during sleep, and provides a valuable barrier between teeth preventing grinding and clenching. Our team also provides quality restorative care that corrects dental injuries caused by bruxism.
Sportsguards
Did you know that up to 40% of athletic injuries involve the face? We know that the last thing our patients want to be worried about while playing their favorite sport is damaging their smiles. That's why we provide custom-designed mouthguards that protect your lips, tongue, face, and a jaw from injury. Studies show that wearing a mouthguard may even reduce the severity of concussions.
Quality Hygiene Products
Practicing diligent oral healthcare at home is as important for your smile as regular visits to our practice, and we want our patients to have the best tools at their disposal for this daily task. That's why Dr. McCartin and his team offer perio-science toothpaste, mouthwash, and other antioxidant products that we feel produce the best results and we also offer a Carifree system of products.
Children's Dentistry
Here in Chicago, Dr. McCartin and the rest of our team understand very well that your little ones aren't looking for the same things in a dentist as an adult might. Adults need comprehensive services and advanced technology. Children simply want to have an experience that's comfortable, safe, and fun. We strive to give them just that! With gentle evaluations, preventive treatments like fluoride and sealants, and discussions with parents about potential developmental concerns, we help your child on the path towards lifelong oral health.
Craniofacial Pain Treatment
Craniofacial pain is a term used to describe any chronic discomfort that's located in the facial region, neck, or head. The most common type of this pain is caused by temporomandibular joint disorder (TMD), a debilitating condition that's caused by misaligned jaw joints. Patients with TMD can experience severe migraines/headaches, earaches, stiffness, physical tension, and other consequences – that's why Dr. McCartin will work hard to diagnose your condition and recommend effective treatment options. These could include oral appliance therapy, physical therapy, medication, or surgical intervention.