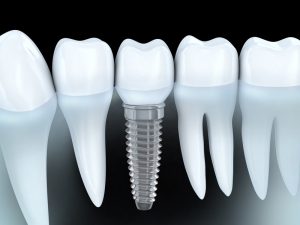 You've lost two teeth in a car accident. Now you wonder how to replace them. What's your best option? Dental implants from 60655 dentist, Dr. Joe McCartin, have satisfied the oral health needs of teenage and adult patients for many years. Surgically placed into the patient's jawbone, dental implants are secure, life-like and long-lasting.
How a Dental Implant Works
A single dental implant replaces the entire tooth structure from root to crown. The titanium implant device resembles a screw or cylinder, and it is the foundation for this artificial tooth. A member of the American Academy of Implant Dentistry, Dr. McCartin surgically places the titanium screw right into the patient's jaw bone during a simple, in-office oral surgery.
Over the ensuing weeks, the titanium screw melds to the jaw bone. This healing process is called osseointegration, and it is the secret behind the high success rate of millions of dental implants across the world. Osseointegration actually rebuilds the jaw bone, keeping it strong and healthy. This is the biggest benefit of dental implants because traditional prosthetics, such as fixed bridgework, simply rest on top of the jaw bone and do nothing to exercise and strengthen it. Over time, the jawbone recedes, but not so with implants.
When a dental implant site has fully healed, Dr. McCartin bonds a metal alloy extension post to the implant and a customized porcelain crown to the post. The resulting prosthetic looks, feels and functions like a natural tooth and is likely the last tooth replacement the patient will ever need. Dental implants also support fixed, multi-tooth bridgework and fixed dentures.
In fact, Dr. McCartin can place a series of smaller, or mini, implants into a patient's jaw to support a removable denture. This conversion of an existing denture may be accomplished in just one appointment giving the individual tremendous security and stability for his or her prosthetic.
The Dental Implant Candidate
The ideal dental implant candidate has adequate jaw bone to accept the titanium devices. Dr. McCartin determines suitability through oral examination, digital X-rays and other sophisticated imaging. Patients must also be in good overall health and be diligent about their oral hygiene practices.
Just as natural teeth, dental implants must be brushed twice a day with a soft brush and flossed daily, too, to eliminate harmful plaque and tartar build-up. While dental implants cannot get cavities, they are subject to a destructive infection called peri-implantitis.
Peri-implantitis resembles gum disease, destroying soft tissue and eroding bone. It threatens the security of dental implants and often necessitates removal. Individuals who smoke are also prone to this infection. Sometimes, after the site has healed completely, the dentist can attempt another dental implant in the same position.
Is There an Implant Dentist Near Me?
Yes, there is if you live in the 60655 area. Dr. Joe McCartin and his experienced staff would love to help you decide on your best tooth replacement. Could it dental implants? Fnd out by contacting Joe G. McCartin DDS for a restorative dentistry consultation.