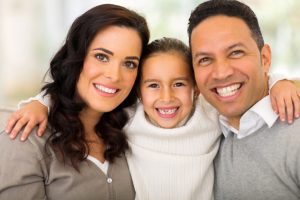 Dr. Joseph McCartin, your premiere dentist in Chicago, would like to invite you to come on in and see us! We've been providing patients with high quality dental care and personalized attention for over 30 years. Whether it's time for your next cleaning and check up, or you're looking to enhance the appearance of your smile, we've got you covered. Our goal is to meet all of your needs under one roof at our practice, so you'll never have to go elsewhere for care. Here are a few of the exceptional services you can expect to find when you work with Dr. McCartin.
Preventative Care for Your Family
We believe that preventative dentistry in Chicago, is the key to achieving and maintaining optimum oral health, and this is why we recommend that you visit us every six months. Professional cleanings and check ups are your first line of defense against oral health issues such as periodontal (gum) disease, tooth decay, and oral cancer. We screen for these issues at every check up because treating these concerns early on means you get the easiest and least invasive treatment.
Our friendly team loves to welcome children to our practice, and we understand how important those first dental visits are for setting your child up for future success at the dental office. We keep our appointments pleasant, fun, and educational for children, and we also offer additional services such as fluoride treatments and sealants to help strengthen and protect small teeth.
Sleep Apnea Treatment
Sleep apnea is a dangerous sleep disorder that causes your body to wake during the night due to lack of oxygen and an obstructed airway. This disorder can affect your health and your performance during normal daily activities. The standard model for care for sleep apnea is the CPAP, or continuous positive airway pressure therapy. The CPAP can be difficult for some patients to utilize due to the mask that has to be worn while they're sleeping.
If you've been diagnosed with moderate or mild sleep apnea, Dr. McCartin can help! By creating a unique and customized oral appliance, we may be able to help relax your muscles at night and slide your jaw slightly forward in order to open your airway and help you breathe freely at night.
Dental Implants
Dental implants are the best tooth replacement option that dentistry has to offer, and this is due to the fact that they replace both your tooth and your root. By restoring your root with a biocompatible titanium post, and your tooth with high quality porcelain crown, dental implants closely mimic your natural tooth and provide the function that you were always used to. Dr. McCartin offers comprehensive implant care, which means that he can both surgically place and restore your dental implant.
This is just a quick look at only a few of the comprehensive services we offer. Contact our office today to learn more.